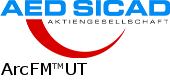 AED-SICAD Aktiengesellschaft is a leading supplier of geographic information systems and applications. They concentrate their developments for customers in the market segments utilites, governmental organizations, e-government applications and other selected areas of business.
Utilities (UT product line)

ArcFM UT is one of the most feature-rich GIS products for multi-utilities on the market. With it, we are offering over 25 years of experience:

this made us a partner of all sorts of energy companies – from small municipal suppliers to international multi-utilities, operating all kinds of data (electricity, gas, water, sewage, district heating, telecom and basemap). With ArcFM UT, these professional users have a versatile and powerful platform for all spatial processes – both within the companies themselves 4and with enhanced added value coming from services provided for third parties.